Mountain Lamp Community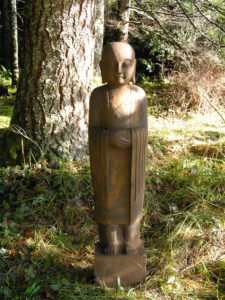 Mountain Lamp is a rural meditation center located on 115 acres of meadows, lakes and forest lands nestled in the foothills of the North Cascade Mountains. It is a place of serenity and refuge which embraces the ancient path of an engaged Buddhist practice in the tradition of Thich Nhat Hanh and Robert Aitken Roshi.
Mountain Lamp offers formal retreats and Days of Mindfulness, and its residents and visitors hold a Daily Practice Schedule all year round.
Organizational Structure
Mountain Lamp is a religious non-profit organization governed by a Board of Directors.  At the heart of it all lies the community of practitioners and supporters.
With Our Feet on the Ground
In 1997, we began caring for this tiny piece of our great earth as a home for our spiritual lives and meditation practice. Before we purchased the land, we had a vision of a piece of property that had been damaged, and was in need of healing and protection.
Wild Rose Farm fit the bill while still being a beautiful piece of land. In 1997, much of the forest had been clear-cut and the land was subdivided into 10 and 20 acre parcels, cutting apart the original 160 acre homestead.
Over a number of years, we bought up the smaller portions of property and eventually restored 115 acres of the original homestead. The first acreage we bought didn't have buildings, but Sangha members still came regularly for restoration week- ends. As a community, we camped out by the lake, practiced meditation in a large tent and cooked our meals on camp-fires.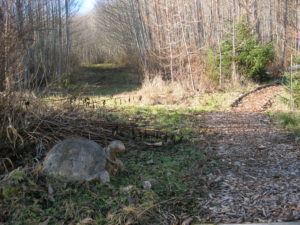 During long days, we tore out broken-down barbed-wire fences, chipped piles of woody debris, restored the native grasses on gravel road beds and planted hundreds of trees. We recycled the barbed-wire, and lined the pathways with chips.
We planted hundreds of tiny saplings that have grown into trees that now offer shade on the once denuded hillsides. Today you can no longer tell that the land was once clear-cut of forest.
In 1999, we purchased the property that had buildings, adding another 20 acres to the 40 we already owned. These 20 acres make up the parcel we all know best; the place where we spend our time meditating, working, eating and sleeping. Our first task on this piece of the old homestead was to erect a yurt to house the inner life of meditation. After the yurt was built, we restored the kitchen- garden, and planted fruit trees, berry bushes and native plants to sustain people, deer, birds and wasps. We developed a second well, used exclusively for watering the gardens; many of which have drip irrigation to conserve water.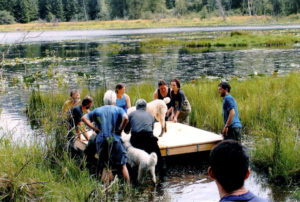 As the years have passed, our sense of stewardship has grown in response to situations arising in the world. In 2004, when our country went to war in Iraq, we celebrated the 4th of July by
building the labyrinth where we now enjoy walking meditation. Modeled after the labyrinth in Chartres cathedral, with fire pits marking the four directions, the design expresses a larger history and culture. Through our peaceful walking of the labyrinth, we express the larger truth in which we are always immersed. Naturally through practice, we become aware of our
interconnectedness with each other, and the good earth that sustains us. Aware of our impact in the world, we have always looked for ways to lessen our footprint. In 2010, we covered the south side of the barn with 39 solar panels that provide three quarters of the electricity that Mountain Lamp uses. Making our own electricity from the sun makes us more careful than ever of our electrical use. Now, we can truly say that the sun is always shining at Mountain Lamp... just turn on a switch and you'll see the sun's gift.
Nineteen years ago when Mountain Lamp Community first came to live on this land, we resolved to inhabit this beautiful place with our full presence.
During retreats, we park our cars in the woods and our technology in our handbags, removing the need to constantly be with someone else in some other place. This offers us the opportunity to truly be on retreat.
We put down our distractions, and let the green meadows, the fresh organic meals, the calls of owls, coyotes, geese and frogs, fill the stillness of each breath. It helps us to re-imagine ourselves.
It invites us to reshape our identities to reflect more fully who we are... filled with sun and rain, tall mountains, and deep brown earth. It is by this true remembering of ourselves that the earth is protected and healed. Meadow and lake, owl and coyote, cedar and cottonwood, like you and me, we are all one body. In the words of Torei Zenji, "May we retain this mind and extend it throughout the world, so that we and all beings become mature in Buddha's wisdom".